Pneumatic bender 33-0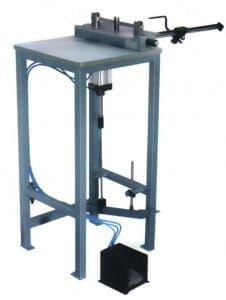 33-0 foot-operated bender is pneumatically powered for faster an easier batch production of identical shapes with high repetitional accuracy. It is equipped with a precision measuring instrument for settings down to 0.10 mm.
The maximum capacity is 50.00 mm high x 4 pt thick medium hard steel rules.
Figure below shows tools supplied with the bender.
The bender can also be supplied without pneumatics. Also as an extra accessory there is a digital caliper available.
| | |
| --- | --- |
| Height | 1210 mm |
| Length | 520 mm |
| Width | 520 mm |
| Weight | 70 kg |
| F0-1 | 0.35 |
| F1-1-1a | 0.5 |
| F2-2-2a | 1.5 |
| F3-3 | 2.0 |
| F4-4 | 2.5 |
| F5-5-5a | 3.5 |
| F6-6 | 4.5 |
| F7-7 | 6.0 |
| F8-8 | 7.5 |
| F9-9 | 9.5 |
| F10-10 | 12.0 |